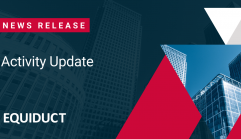 Equiduct, the retail-focused pan-European exchange, announced today that Interactive Brokers is the latest member to join Apex. By coming aboard, Interactive Brokers will gain access to Equiduct's Best Execution services across 11 European markets through a single trading connection, with zero execution fees.
"Interactive Brokers is a major player and a global brand, and we're delighted to showcase the breadth of value we can offer. In the first half of 2020 we delivered a price improvement of over €2.5 million and are excited to extend Apex, our best execution service, to Interactive Brokers and their end investors", says Dave Murphy CEO of Equiduct. "Trading has changed: the future is all about maximum and cost-effective access to liquidity. Apex opens doors to pan-European liquidity using a single exchange connection and zero execution fees for retail brokers, allowing Interactive Brokers to advance their already impressive execution capabilities".
Equiduct's innovative Best Execution products reduce both execution and post-trade costs by sending fewer trades to clearing, whilst providing brokers with access to the best prices on the major primary and secondary markets in Europe. Launched in November 2019, Apex is the first commission-free, on-exchange trading service for retail orders in Europe, which guarantees Best Execution for every trade. Pre and post-trade transparent, Apex delivers daily execution quality reports which provide evidence of Best Execution for each trade.
Steve Sanders, EVP of marketing and product development at Interactive Brokers said: "We have always focused on transparency and delivering superior pricing at low cost across the full breadth of our global product offering. Joining Equiduct gives us the edge in Europe, supporting Best Execution across the fragmented European liquidity landscape, helping us achieve the best possible results for our clients whilst maintaining low execution costs. We are thrilled to access the depth and breadth of liquidity available through Apex, particularly during this period of high volatility when our clients need it the most".
Notes to editors
About Equiduct.

Equiduct is an innovative, client driven pan-European trading venue enabling retail brokers and institutional clients to achieve Best Execution in the most liquid and fragmented cash equities and ETFs. Focused on providing solutions for our members in the post MiFID environment, Equiduct has developed unique products designed to revolutionise retail trading which facilitate order execution against the pan-European consolidated order book. Equiduct provides true pan-European trading across 11 markets covering 16 European headline indices.
Equiduct is a market segment of Börse Berlin, a regulated market operator under Article 44 of MiFID II. Börse Berlin is regulated by the Competent Authority Senatsverwaltung für Wirtschaft, Energie und Betriebe – Börsenaufsichtsbehörde and participation in trading is governed by German and European law.
Equiduct has published record activity during the first and second quarter of 2020. For more information on Equiduct, please visit: www.equiduct.com
About Interactive Brokers Group Inc.
Interactive Brokers Group affiliates provide automated trade execution and custody of securities, commodities and foreign exchange around the clock on over 135 markets in numerous countries and currencies, from a single IBKR Integrated Investment Account to clients worldwide. We service individual investors, hedge funds, proprietary trading groups, financial advisors and introducing brokers. Our four decades of focus on technology and automation has enabled us to equip our clients with a uniquely sophisticated platform to manage their investment portfolios. We strive to provide our clients with advantageous execution prices and trading, risk and portfolio management tools, research facilities and investment products, all at low or no cost, positioning them to achieve superior returns on investments. Barron's ranked Interactive Brokers #1 with 5 out of 5 stars in its February 24, 2020, Best Online Broker Review.
Enquiries Equiduct:
Media Relations 
Tel +44 (0)20 3595 1523
Email: press@equiduct.com
Enquiries Interactive Brokers:
Media Relations
Email: media@ibkr.com