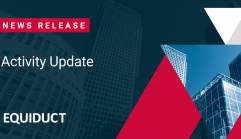 Equiduct, the pan-European retail-focused exchange, today released transaction results for full year 2020. It reported an overall ADV (average daily volume) of €281m for the last quarter of the year, gaining 65% in comparison to the same quarter in 2019. ADV for 2020 reached €283m, up from €149m in 2019 – an 88% increase. By comparison, trading activity across Europe's lit markets grew by only 5% year on year. Total price improvement more than doubled from €2,202,176 to €5,420,506 – this means Equiduct was able to deliver an improvement of 146% to end investors on their execution prices when compared to the previous year.
Equiduct also reported a 132% increase in total trades – from 6.3m in 2019 to 14.6 million trades in 2020. Equiduct saw an increase of nearly 90% in turnover (volume of transactions); and its market share of the pan-European market increase by 78%.
This success comes following the 2019 launch of Apex – the commission-free, Best Execution service for retail brokers. Apex is a fully transparent, MiFID-compliant, regulated trading service which allows retail orders to execute against the pan-European order book and is supported by a pool of Liquidity Providers and active brokers.
Dave Murphy, CEO of Equiduct, said "2020 was a year of high volatility and the market conditions saw increased retail participation. We believe it is the responsibility of exchanges to provide innovative solutions to improve the markets, and this is central to all that we do. We listen to market participants and strive to constantly improve our already best-in-class offering. This is why we launched Apex one year ago - to provide a level playing field for retail brokers who have not always been able to benefit from access to multiple liquidity sources following the introduction of MiFID. Our technology was built for retail brokers with the goal to bring meaningful improvements for the end investor and Best Execution for all. Our astounding 2020 results are a clear endorsement of our services from the retail community, with an increase of nearly 90% in turnover and a 78% increase in our market share against the pan-European market".
Wail Azizi, Managing Director & Global Head of Growth at Equiduct, added "We have seen incredible appetite from the retail broker community to access innovative solutions to provide Best Execution at a better cost to their clients. Simply sending orders to the primary venues is no longer enough; 2020 was a bustling year for Equiduct with five new brokers joining Apex. Our robust and scalable technology consistently delivered an increase of 132% in number of trades as well as +146% in price improvement through a seamless experience for our clients throughout the year. We are excited for 2021 as we gear up to welcome even more members to the platform, helping them provide cost-effective Best Execution to an ever-expanding number of retail investors throughout Europe".
For further information, please contact:
Gilly Lock / Andy Smith at Powerscourt Group
Tel:  +44(0)7711 380 007 / +44(0)7872 604 889
equiduct@powerscourt-group.com