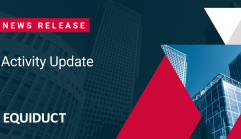 Equiduct, the pan-European retail-focused exchange, today released results for the second quarter of 2020. Equiduct has reported an ADV (average daily volume) of €317m and a total quarterly turnover of €20bn, both representing an increase of 130% in comparison to the second quarter of 2019. Building on last quarter's records, the exchange has continued to show high performance, boosted by Apex, the zero fee Best Execution service for retail brokers.  
Even in periods of high volatility for pan-European trading, which suffered a drop of 25% in reported ADV, brokers are witnessing record retail appetite fuelled by the development of technology and ease of access to platforms. Responding to this demand, Equiduct recently launched Apex, positioning itself as the most attractive venue for retail trading.
Dave Murphy, CEO of Equiduct, said "Current market conditions have supercharged the evolution of retail trading. It is not just for seasoned investors anymore, but for anyone with a smartphone. Technology makes trading more accessible and brokers need to focus on best execution and transparency. Apex has allowed brokers to overcome these challenges whilst reducing the number of trades sent to clearing by 29% this quarter. We are thrilled to see the benefits of trading on Equiduct being increasingly realised by European retail investors and brokers."
Wail Azizi, Head of Business Development at Equiduct, added "Retail trading has much more resilience than we have seen before and this has proven to be true again this quarter. Our record 139% increase in market share year-on-year reflects that we are uniquely positioned as the pan-European retail exchange of choice. In this quarter alone we have been able to deliver best execution on more than 4 million trades with more than €1 million in price improvement and these results are only an indication of our ambition and what we can achieve in the future."
Notes to editors
About Equiduct.

Equiduct is an innovative, client driven pan-European trading venue enabling retail brokers and institutional clients to achieve Best Execution in the most liquid and fragmented cash equities and ETFs. Focused on providing solutions for our members in the post MiFID environment, Equiduct has developed unique products designed to revolutionise retail trading which facilitate order execution against the pan-European consolidated order book. Equiduct provides true pan-European trading across 11 markets covering 16 European headline indices.
Equiduct is a market segment of Börse Berlin, a regulated market operator under Article 44 of MiFID II. Börse Berlin is regulated by the Competent Authority Senatsverwaltung für Wirtschaft, Energie und Betriebe – Börsenaufsichtsbehörde and participation in trading is governed by German and European law.